VIBRANT, INSPIRING, PLEASANT & SIMPLICITY
…now everyone is a VIPS
VEERED towards affordable, comfortable and vibrant spots on the island? Yes! Cenang Plaza Beach Hotel Langkawi awaits you! It's a place to embrace casual lifestyle of Langkawi and experience the best of both world – 'beach & shop' – 'comfort & pleasure!'
INDULGED in a pleasant scenery of Andaman Sea or simply enjoying the street view of Pantai Cenang's vibrant nightlife from the comfort of your room depending on your accommodation choice – all these are simple pleasure in life but made possible with a private balcony designed in all of our guestrooms.
PLEASANTLY located right at the center of a vibrant duty-free shopping, seamless eatery environment, active beach activities, and only 10 minutes drive from Langkawi International Airport; Cenang Plaza Beach Hotel is simply a convenient deal for you.
SANDWICHED between the busting Cenang Street and lively sandy beach of Pantai Cenang, Cenang Plaza Beach Hotel, Langkawi is at the centre of everything you ever ask for to reach your fullest potential!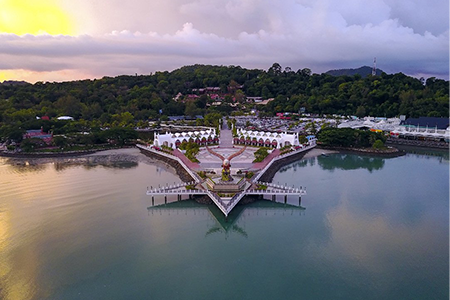 Eagle Square Langkawi
Dataran Lang, or Eagle Square in English, features the awe-inspiring statue of a reddish brown sea eagle with its wings lifted skyward poised for flight from atop a lofty perch. Peering across the Andaman Sea, this 12-meter high sculpture is an iconic emblem of Langkawi. The prominent sculpture was erected in 1996 as a symbol of the island. The name Langkawi is derived from the Malay words "helang" and "kawi", meaning "eagle" and "reddish brown". It is the best-known and most popular man-made attraction in Langkawi.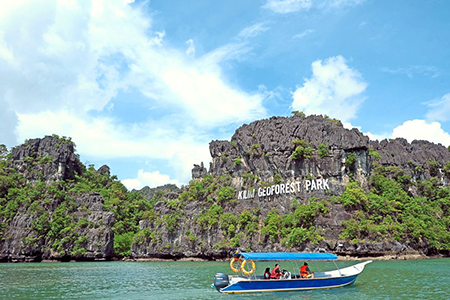 Explore Langkawi
Renown for its Legendary Island and receive more than 2 million tourists visit Langkawi every year. It's the ultimate holiday paradise that offers natural backdrop of sun-drenched beaches and fascinating legends and history of Langkawi.
UnderWater World Langkawi
Underwater World Langkawi (UWL) is one of the largest marine and freshwater aquaria in South East Asia. Since the start of its operation on 26 August 1995, it has become one of the must visit tourist destinations in Langkawi and has attracted a large number of foreign as well as local tourists. The concept and theme of Underwater World Langkawi are geared towards Research & Development, Education and Entertainment. It is built to raise awareness on the importance of conserving our precious aquatic life forms, thus creating understanding of the deep and inseparable bond between man and nature.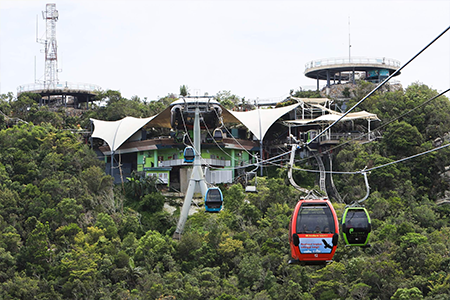 Cable Car Langkawi
Hovering over jungle and climbing over 550 million years old rock, SkyCab gives you more than one unique experience. Be informed, SkyCab is located at the oldest part of South East Asia and the first to emerge from the ancient sea and estuary! That's something to give a goose bump if you can get the gist. Come and experience it yourself.

Cenang Plaza Beach Hotel | Langkawi Hotel

Dear Friends,
Welcome to Cenang Plaza Beach Hotel, you affordable chic accommodations in Langkawi.
Through our VIBRANT, INSPIRING, PLEASANT and SIMPLE set-up,
Cenang Plaza Beach Hotel | Langkawi Hotel
Goal is to create comfortable and pleasureable stay for everyone.

..now everyone is VIPS!